All Posts
by Yonatan Fried.
Have you ever wondered why every city and province in China has its own "government"? Or why the regulations in China are different in each province? This is due to China's unique administrative structure. China covers a vast area of 9.6 million square kilometers and governs a huge population within its borders. Even though the Chinese constitution divides the country into three levels of administration, in practice there are five levels: province, prefecture, county, township, and village. Each level of government has its own authority and influence. Therefore, local authorities in each province in China have an impact on economic development and policies within their borders and can provide financial incentives for businesses locally and worldwide.
When working in the Chinese market, it is important to understand that the local population strongly identifies with its province of origin. The various provinces have different levels of administrative status (province level). In total, there are 23 "regular" provinces in China, four urban provinces (cities that contain a population equivalent to that of a province), five autonomous provinces under federal authority, and two special administrative regions with separate economies from China (Hong Kong and Macau).
PTL Group's main activity is in Beijing and Shanghai, which are the most important urban provinces in China and act as the country's main business centers. We mainly write about what occurs in these areas, but this time we decided to step out of our comfort zone and compile a list of five other provinces that are particularly interesting for companies who wish to enter the Chinese market. These provinces are located along the southeastern coast of China, are the most developed, populated, and richest in China, and have a long-standing history of import, export, manufacturing, and distribution activities. Here is the list: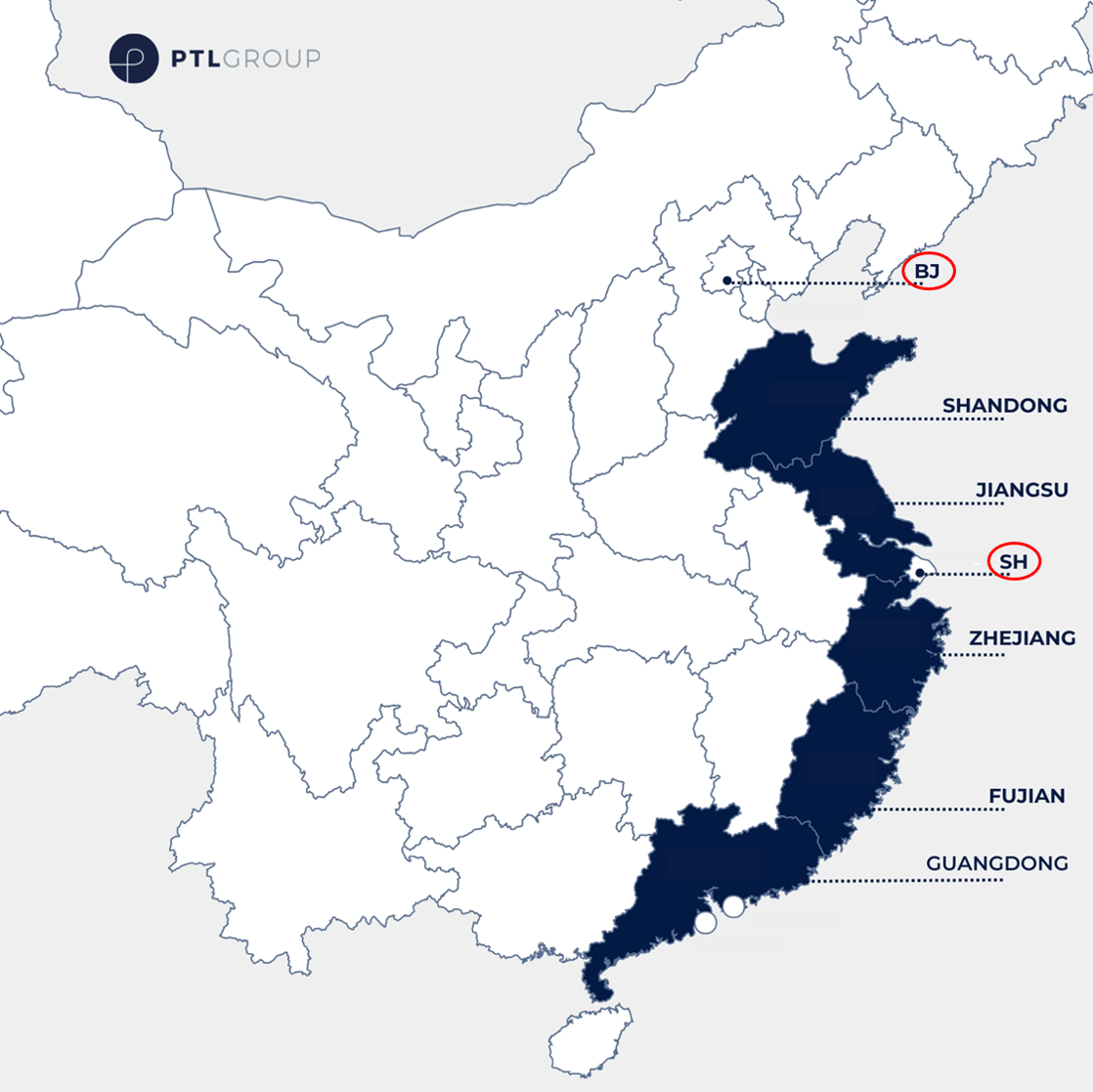 Click here for more information about China Market Entry Services
Guangdong
Population: over 126 million, the most populous province in China!
Main trading cities: Guangzhou, Shenzhen, Dongguan
Main port: Port of Guangzhou
Main imports: Electrical systems and electronic components
Main exports: Electronic products
Guangdong province is the center of China's electronic production and distribution operation. 90% of factories producing electronic products in the country are located in three cities: Shenzhen, Guangzhou, and Dongguan. Shenzhen is known as the electronics capital of China and the Chinese Silicon Valley.
The province has dozens of advanced ports and thousands of factories that offer a range of manufacturing technologies for local and international companies. The "world's workshop", as many call it, offers a convenient and fertile ground for many sectors, such as agriculture, advanced manufacturing, and high-tech. Along with the three special economic zones oriented for trade in the cities of Shenzhen, Zhuhai, and Shantou, Guangdong offers a vibrant business environment and a seaport that is considered one of the largest ports in the world. In 2021, Guangdong province was part of a very short list of provinces whose annual GDP exceeded one trillion yuan (over $144 billion).
Shenzhen Bay (photo by Vincent Lin on Unsplash)
Jiangsu
Population: Over 85 million
Main trading cities: Nanjing, Suzhou, Wuxi, and Nantong
Main port: Port of Suzhou
Main imports: Technology and electronic components
Main exports: Mechanical devices and industrial raw materials
Jiangsu province is rich in natural resources such as coal, oil, gas, salt, and water, and is one of the major industrial centers in China with an annual GDP of over one trillion yuan (more than 144 billion dollars). The province specializes in various services provided to companies operating in China's heavy industries. Jiangsu has more than 12 cities with a population of over 3 million residents each, and the world's largest river port, which is located in the city of Suzhou. The province's location along the Yangtze River allows for convenient access to many areas in China and easy access to oceanic trade routes.
The province's economic strength was well demonstrated in 2020, when, despite the spread of COVID-19, Jiangsu's annual GDP growth rate was 3.7%. As part of China's policy to encourage investment, Jiangsu offers many incentives for international companies contemplating company registration in China.
Zhejiang
Population: Over 65 million residents
Main trading cities: Hangzhou, Ningbo, Wenzhou
Main port: Ningbo Zhoushan Port
Main import: Information Technology (IT)
Main exports: Building materials, electronics
Zhejiang is one of the most important provinces in China in terms of commercial activity, and is responsible for over 13% of China's total exports. Zhejiang's provincial government allocates many resources to invest in local businesses as well as technology and service innovation. In 2022, goods worth over $174 billion were imported to Zhejiang. While Zhejiang was previously a center for light industries such as toys, furniture, and clothing, this changed in the 21st century, partly due to the province's proximity to the city of Shanghai, which is a province in itself. The heavy industry now dominates the province's manufacturing sector, with numerous advanced factories producing a wide range of materials for the textile, construction, and electronics industries.
Shandong
Population: Over 100 million inhabitants
Main trading cities: Jinan, Qingdao, Yantai
Main port: Port of Qingdao
Main imports: Minerals, seeds, fruits, and vegetables
Main exports: Oil, machinery and complex equipment, electronics, and textiles
The province of Shandong is one of the most important provinces in China, with a rich historical and cultural past. Its location south of the capital city of Beijing on the coastal plain allows for easy sea access. The city's port's strategic location and extensive investment in the railway network have enabled Shandong to position itself as one of the richest provinces. In fact, it is the third largest economy in China.
Shandong's five main industries are chemical production (10.3%), petroleum and oil production (10%), packaging of raw materials for agriculture (6.1%), construction materials production (5.1%), and electricity and energy production (5.1%). Furthermore, Shandong is responsible for producing 12% of China's total petrol exports and more than 44% of foreign investment in the province is directed towards China's manufacturing sector. Therefore, it is not surprising that Shandong is one of the most populous provinces in China and is considered an attractive location for Chinese citizens looking for work and for international companies interested in benefiting from diverse industrial services.
Fuzhou skyline, Fujian Province (Photo by 尧智林 on Unsplash)
Fujian
Population: Over 41 million residents
Main trade cities: Fuzhou, Xiamen, Putian, Quanzhou
Main port: Fuzhou Port
Main imports: Metals, oils, and cement
Main exports: Electronics, textiles, and footwear
Fujian province is one of the most dynamic provinces in China, known as a popular tourist destination due to its coastal cities and pleasant climate. Additionally, it is one of the most attractive provinces for foreign investments due to its strategic location facing Taiwan, where the TSMC company produces over 53% of the world's basic semiconductors and 92% of the world's advanced semiconductors. These components are responsible for operating most electronic products, ranging from toys to intercontinental missiles. In 2015, Fujian launched one of the largest free trade zones in China, covering 118 square kilometers, with the aim of creating a direct free trade channel for foreign investments between the cities of Fuzhou and Xiamen.
---
We hope that you found great value in this list of provinces along China's southeast coast. Have any questions? Need more information? If you are planning to enter the Chinese market or are already active in China, we would be happy to get to know you and offer our assistance.