All Posts
Do you export goods to China? Have you used the same HS Code and paid the same level of import duty for years? If so, it is time to check whether the current HS Code is still the most suitable for your products.
HS codes and why you need them
HS codes, also known as the Harmonized System, are a standardized international system to classify globally traded products. HS codes are used internationally for several important reasons, but most importantly to ease global trade by creating unified categories to classify different types of goods.
Usually HS codes will consist of 6 digits, but the number of digits differs between countries. For example, the China Customs Commodity HS Code has been changed and now consist of 13-digits: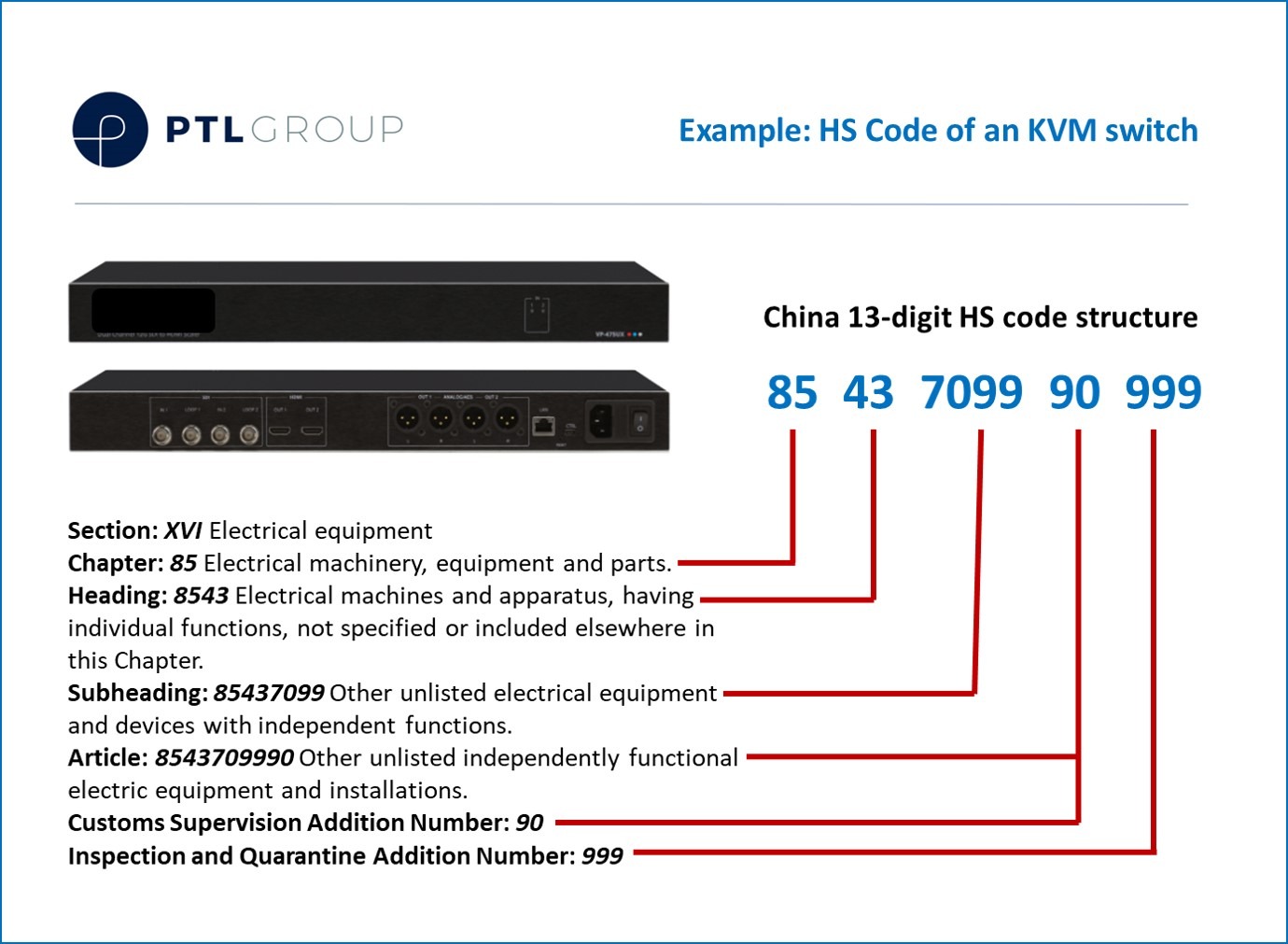 In China, duty rates on import goods are composed of most-favored-nation (MFN) duty rates, conventional duty rates, special preferential duty rates, general duty rates, tariff quota duty rates, and others. Temporary duty rates may apply to import goods within a specific time limit.
MFN duty rates apply to imported goods originating from members of the World Trade Organization (WTO) that are subject to the common application of the MFN clause, import goods originating from countries or regions with which the People's Republic of China has concluded a bilateral trade agreement for reciprocally granting of MFN treatment, and import goods originating from the customs territory of the People's Republic of China.
The KVM switch above can be used as an example of the significant difference in duty, which is a privilege offered to WTO members. In this case MFN duty is 0%, compared to general duty, which is 35%.
HS codes when exporting to China
One of the biggest issues faced by exporters is that customs regulations do not clearly specify which HS codes are applicable to their products. It's important that you are able to classify your products with the correct HS codes, so that customs authorities know what regulations and certifications apply to your products.
Using the wrong HS codes can delay customs clearance, costing you time and money. If you accidentally use the wrong HS code, you should cooperate with your Chinese importer and preferably seek advice from a third party with relevant expertise to help you out.
It is important to check whether the HS Code you use is the one most suitable for your products, since HS codes can be affected regularly by new government reforms to optimize imports, by China's signing of preferential treaties with different countries, as well as by the professionalism of your local agents when dealing with customs authorities.
Read more about logistics fulfillment and distribution services in China
Find the HS codes for your products
HS codes can be found and summarized by online searching tools, but we do not recommend using that approach because the systems are automated and so are not accurate in many cases.
However, PTL Group will provide you with a free evaluation of your updated product HS Code, to find out whether better duty rates for your products exist.
Contact us now to get a free HS Code evaluation >>