All Posts
It's the time of the year again to prepare for the Chinese New Year (CNY). A marvelous time to be in China, but we recommend not to misjudge the festive atmosphere and be prepared for some obstacles that you will face during January.
The national "holiday mood" often comes at odds with the tremendous pressure felt by foreign managers, who are compelled to adjust to the changing business pace. Put bluntly, from a logistical standpoint, the CNY poses challenges to almost every company doing business in China, foreign or local. Undoubtedly, Covid-19's ripple effects have intensified these challenges and the pandemic's impacts on supply chain management haven't disappeared. But do not be too worried, the Chinese market has long record of emerging from crises. From shipment cancellations and delays to container shortages, meteoric increases in raw materials, and shipment costs, you should be prepared for all the bumps you might need to deal with during the holidays.
Here is an overview of logistical challenges around CNY 2023 and a recommended tip-list for early preparations.
Read more about logistics services in China
What to expect for Workforce availability
Usually, on CNY, local employees travel around the country to reunite and celebrate with their families. This massive "migration wave" starts before the holiday and continues at full force throughout the festivities. As a result, the workforce and output of domestic companies shrink dramatically. Usually, employees get a 7-day vacation, also known as "the Golden Week", although the vacation can sometimes stretch to over 15 days, starting before New Year's Eve and ending with the Lantern Festival. In 2023 the official Golden Week dates are January 21st – January 27th.
lately, the Chinese government has changed its Covid policy to a more relaxed form, but you should still be prepared for uncertainty regarding lockdowns and policy changes.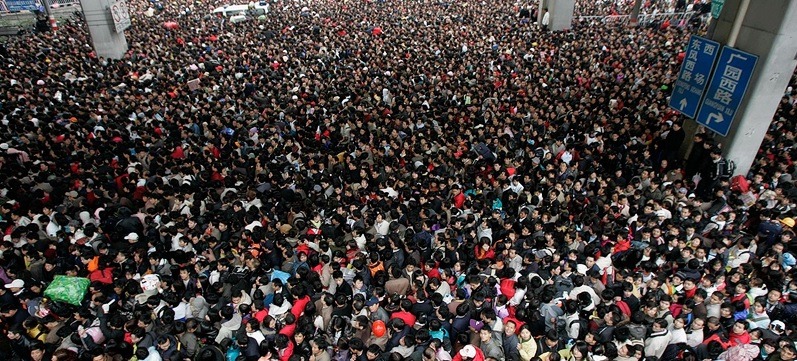 Long holiday season means expecting a bottleneck
Production and shipping processes in China are accelerated way before the "real" holiday starts. Manufacturers and exporters rush to produce and ship as much as possible before the Golden Week period. This causes a bottleneck in customs offices and ports, However, during the last year many ports have adapted to this issue, by implementing a digital and automatic system to manage their output, so expect a fundamental improvement.
You should expect a slowdown in manufacturing around January 1st, as factories will gradually stop production. Making the whole month of January a relatively slow month. Factory workers will start to leave for holiday little by little beginning January 6th right up to the holiday on January 21st. Operations will return to full form on February 5th.
Learn more about logistics and distribution services in China
Rates are higher
The race for completing orders has also resulted in an astounding cost rise in several components of supply chain management in China. For instance, the growing demand for plastic, silicon, and steel around CNY is demonstrated in a 10%-50% increase in the prices of raw materials.
As for the cost rise of shipments from China – figures provided by Freightos.com reveal that in November 2022 there was an 18% decrease in price for shipping freights. Air Cargo News has published that air freight rates are "back to normal" increasing its air shipping by 28% and returning to their normal capacity.
Last year at this time China was facing a shipping crisis thanks to Covid. A shortage of workers was felt to harm the supply chain. This year it looks like the same problem will not be an issue, and the great rates and efficiency are almost back on track. But we do expect a small change in rates, according to insiders in the industry, the price (of what?) is expected to rise slightly at the end of December.
Our services assist international companies in the Chinese market. Contact us
Our best recommendations for a smooth logistics operation in CNY
Here are some tips to help you prepare, and avoid delays, cancellations, and headaches throughout your supply chain:
If possible, we recommend ordering sufficient inventory for Q1 to reduce the impact of the supply chain disruptions.
Check carefully all the stages of your production, shipping, and the handling of your products around the Chinese New Year dates.
Split your shipments into urgent and non-urgent categories and prioritize accordingly.
Make early shipping reservations by 10 days at least.
Prepare at least half of your inventory for shipment after the quality control inspection.
Document all orders and agreements with employees and suppliers in writing.
Plan orders and shipping schedules for after the holiday, so that employees can resume work immediately.
Draft contingency plans in case the vacation is extended and prevents a proper return to work.
If you hire employees in China, put back to work the employees who live closest to the factory, in case government policies will not allow all employees to return to work.
Utilize a professional and trusted service provider in China who could support and promote your logistical operations and local interests.
As 2022 is coming to an end, and hopefully your plans are almost in place for 2023, we would like to wish you all a happy new year and remind you that there is still a month before the Chinese New Year (CNY), so you still have some time left to refine those plans. We wish you a happy new year ahead, and good luck with the Chinese adventure!