All Posts
We hope you are ready for January 2023, and have marked it in your calendars, as you should be prepared for a whole month packed with Chinese New Year festivities that change the business pace in China. The Chinese New Year (CNY), also known as the "Spring Festival," is the most important holiday in China and many other east Asian countries.
Although CNY's celebrations stretch across 16 days (January 11th-27th), local employees in China take a 7-day official vacation, commonly referred to as a "Golden Week". This year the Golden Week will be between January 21st-27th. It isn't a random title, for this week is renowned for its unique, nearly halted business pace. Foreign brands doing business in China need to be prepared ahead of time, on all fronts – from business to logistics and culture.
Check out this brief guide to better understand how to treat your Chinese employees, customers, and suppliers around the CNY period, and when local employees resume work.
Chinese culture during CNY
CNY is a colorful and cheerful holiday characterized by big family reunions. These family gatherings incite a mass movement of people journeying home all across the country, resulting in heavy traffic on the roads and trains.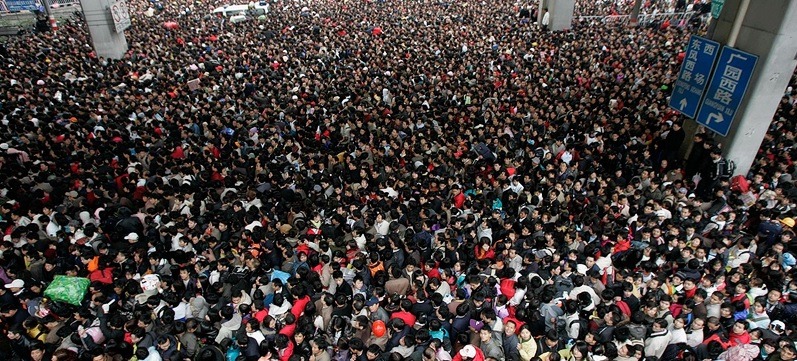 A typical image of a train station in Shanghai several days before CNY 
Traditionally, CNY is also a very "noisy" holiday. The legend tells of a terrible monster who used to attack villagers every year, and to defend themselves, the villagers tried scaring it away by making noise and flashy red and gold colors. This custom persists in contemporary China, as people expel the previous year and welcome the new one with boisterous celebrations and spectacular fireworks.
The traditional Chinese calendar is a lunar calendar, so the holiday dates change from year to year. The Chinese calendar has 12 "zodiacs" all of which manifest in the form of animals, but unlike the Western calendar, these zodiac signs represent years rather than months. For example, currently, the year of the tiger is coming to an end, and the year of the rabbit will begin on January 22nd. According to Chinese tradition, the rabbit came in 4th place at the "great race" right after the tiger. The rabbit symbolizes mercy, elegance, and beauty, and is the luckiest of all animals, making 2023 a year of luck.
Read more about logistics services in China
Covid-19 policy during CNY
Two factors may interfere with the New Year celebrations. The first one, is the removal of Covid-19 restrictions that resulted in a surge of the pandemic in many cities around the country. China is battling a wave of outbursts of the Omicron variant and the implications are unknown for the time being. The second is the global supply-chain crisis crippling China and the rest of the world, which is expected to worsen around this time of year.
Our recommendation is to prepare for this season properly, by strategizing in advance the company's manufacturing and logistics in China and accounting for delays in your delivery times & supply chain.
During the holiday, there is a complete change of routine in China. Early preparation for these significant days is critical for foreign brands doing business in China. Get five tips that will help you operate through the holiday successfully.
1 – Prepare your supply chain and inventory
CNY creates a logistical bottleneck. That's to say, during this period, the demand for goods and international shipping increases, while at the same time, many factories in China shut down or operate at a far lower output. The overload at factories and ports accumulates weeks before the holiday and continues weeks afterward. Preparing and storing sufficient supply early enough would help mitigate the deceleration at customs, shipping, and distribution challenges. Read more about how to Optimize Your Supply Chain Management in CNY 2023.
2 – Know what to say
When the New Year approaches, we recommend delivering greetings to your Chinese suppliers, employees, customers, and all of your contacts in China. The New Year is an excellent opportunity to show your respect for their culture, communicate appreciation, and strengthen your relationships in China. We recommend using one of the following greetings:
Happy New Year 新年快乐, Xīn nián kuài lè
Good Health 身体健康, Shēn tǐ jiàn kāng
Blessing for the success of the business 生意兴隆, Shēng yì xīng long
Happiness and prosperity 恭喜发财, Gōng xǐ fā cái
3 – Gifts and red envelopes (Hongbao)
Gifting local employees in China red envelopes with money is a common custom. The sum can be any amount consisting of the lucky number 8. Although some applications like WeChat, often replace traditional envelopes with virtual ones, this custom continues to exist and is always appreciated.
Alternatively, you can also bring gifts. But take note – prepare your gifts in even numbers, meaning two boxes of chocolate or two bottles of wine, and under no circumstance three.
4 – Everything is Red!
Red is the holiday's lucky color, and it is a dominant color in China generally. Hence it is customary to wear red or other vivid colors such as yellow or orange during the holidays, but don't wear white or black to any festive events.
5 – Day 5: The God of Wealth 迎财神
After the celebrations die down, they restart on the 5th day of CNY. On the 5th day (破五 pò wǔ the broken fifth) Chinese will welcome the God of Wealth. This act is a tradition set to make sure you have a year of good fortune and prosperity. Calling to get rid of the "5 poor": Poor wisdom, poor learning, poor literature, poor friendship, and poor life.  So don't be alarmed if you start hearing firecrackers reignite 5 days after CNY.
The PTL Group team wishes you a happy Chinese New Year.
We will be glad to be at your service at any time!