All Posts
WFOE – Wholly Foreign-Owned Enterprise is the most common business entity for international companies in China. Initially, the Chinese authorities wanted to encourage manufacturing of new technologies or foreign exporters of such products to have easier access to the local market. Now it also covers a wide range of industries as well as services, such as management, consulting, education, software development and so on. Therefore, any company that is fully owned by a foreign company in China is considered a limited liability company wholly owned by the foreign investor or investors – a WFOE. Note that branches and representative offices set up by foreign enterprises are not WFOEs.
Three Main Types of WFOE
Manufacturing WFOE – Expected to manufacture products in China
Consulting WFOE – Allowed only to provide consulting services in China
Trading WFOE or FICE (Foreign-Invested Commercial Enterprise) – Allowed to Trade, Wholesale, Retail or Franchise in China.
WFOE Advantages
Compared to other business entities (Rep. office, JV etc.), WFOE incorporation has several advantages. The key benefits of establishing a WFOE in China are:
Strategic Independence: Freedom to implement the worldwide strategies of its parent company without having to consider the involvement of a Chinese partner
Sales: Ability to formally carry out business activity (buy, sell, import, export) as opposed to only function as a representative office. That means that WFOEs can trade using Chinese currency and are able to issue invoices to their customers in RMB and receive revenues in RMB.
Finance:

Ability to bring foreign currency into China to finance the local activity without paying taxes on these amounts
Ability to convert RMB profits to foreign currency for remittance to its parent company outside of China
Ability to apply for Import and Export VAT refunds
Ability to pay dividends to shareholders

Production: For Manufacturing WFOE, ability to import / export the core technology and combine it with local components
Trade: Ability to apply for special licenses that are required for the business without relying on 3rd party agents
HR: Ability to fully control the employment process in China
Operational efficiency: Ability to increase operational efficiency, including day-to-day management and streamlined future development
Marketing: With a WFOE you could register your own ICP license, official WeChat account, rent and host your website or app on a local server and conduct any other social media activity that requires that you have your own license
Apply for government tenders that requires the bidding party to be a locally registered company
Risk and liabilities
At the same time, it is important to acknowledge the risk and liabilities when setting up a WFOE:
HR risks: Direct liability for any dispute with the WFOE's employees. Direct liability for paying all social benefits and income tax for the WFOE's employees under China labor law
Finance liabilities: Direct risk and liability for paying any tax liability that the WFOE has, including: VAT, profit tax, dividend tax, import VAT etc.
Trade: Direct liability for any business activity that is performed by the WFOE's employees with or without acknowledgment of the parent company
Operational: Large exposure for the company's reputation, assets and business activity that can be compromised by employees, business partners and competitors
Preparing for the WFOE set up
Collect documents according to the list provided by the agent
Decide the key functions of the WFOE: Legal Rep, GM, Supervisor, Directors, Chairman
Decide the amount of registered capital and total investment amount
Decide the required business scope
Prepare the Article of Association that is suitable for the specific business
Present shareholders chart
PTL GROUP WORD OF WISDOM
Choosing the registration agent:
 It is important to choose the right agent for the process and check references from other companies that registered with the same agent after they have finished the process.
It is important to adjust the Article of Association to the actual needs of the future WFOE and not use only the template that is provided by the government. It is important to seek professional advice for this issue since it will determine the entire legal structure of the WFOE, especially when coming to decide who will be nominated for each role.
It is important to discuss all the components of the service fee of the process in advance in order to avoid any additional costs that will be imposed during the process.
Registration Stages
The chart below outlines the basic registration stages. The WFOE registration process is constantly changing and may also be different from city to city.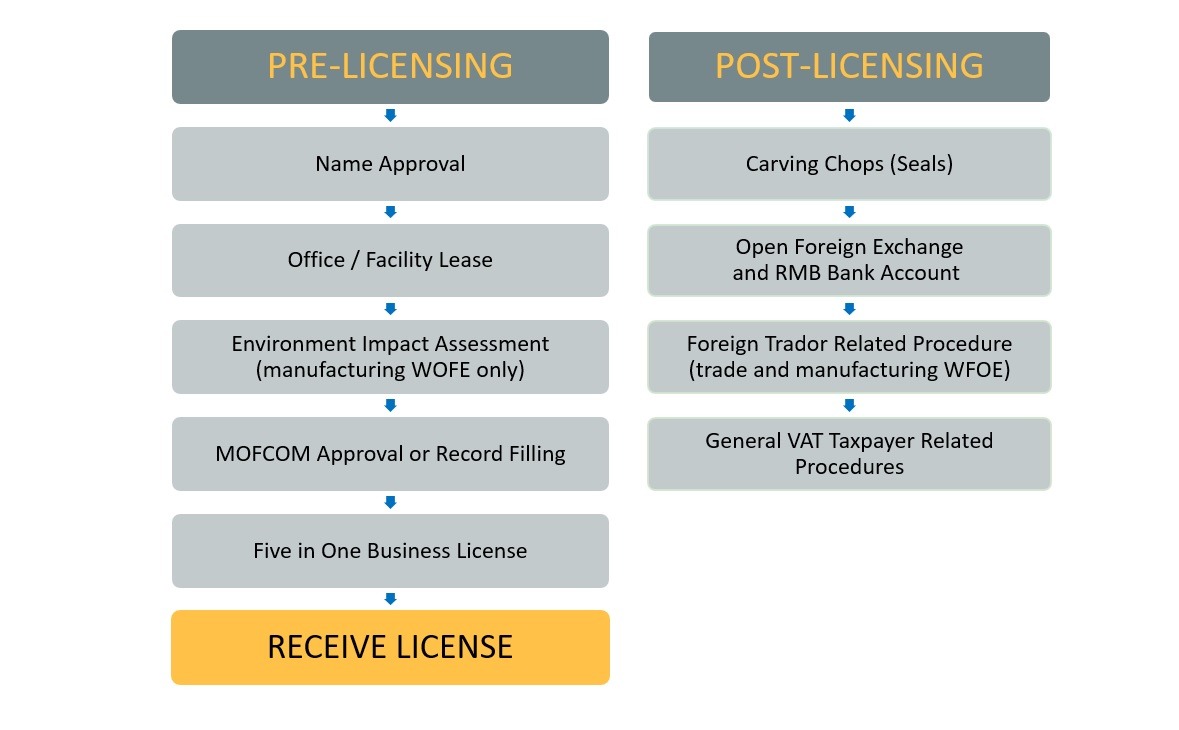 Read more about WFOE registration stages in the following chapters:
PTL Group offers WFOE registration services and ongoing operational support to registered entities in China.
We provide comprehensive C-Level management outsourced services to international corporations with business entities in China (WFOE, FICE, Rep. Office or JV).
For additional information Contact us 
**The information is based on a China Briefing article from 2017. In this version we have updated the details that have changed since then and added practical tips based on recent cases we have dealt with.