China has many general national labor laws, which are periodically adjusted, as well as long lists of provincial laws and supplementary regulations. PTL Group's vast expertise includes HR solutions in China.
Read more about PTL Group's HR management and recruitment services in China.
The Chinese Labor Contract
Who signs the contract with the employee?
The most important Chinese law you should be aware of is this: foreign companies without a legal entity in China are not allowed to employ local workers by themselves. Foreign companies active in China can employ local employees by using a third-party company, which becomes the worker's official employer in China (employer of record). The external company, which provides employment and salary management services, should represent the interests of the parent company, and maintain direct contact with it. Outsourcing employment and salary management functions is a common solution to assures the foreign company, that labor contracts comply with taxation regulations, that wages comply with Chinese labor laws, etc.
What is included in the labor contract?
Labor contracts are an essential part of recruitment in China. The labor relationship between an employer and an employee in China is based on the Chinese Labor Contract law. It covers and addresses a large number of topics, and for the most part, seeks to protect the employee. Subsequently, it is illegal for a company to hire a full / part time employee (local or foreign), without an updated and valid labor contract.
Like other countries, the Chinese labor contract must include several clauses, such as:
Employment term and probation period term
Job description
Definition of working hours, rest hours and vacation days
Severance packages for overtime work and termination of employment
Safety at work conditions
Social benefits
General information: Employee name, ID, company name and address, etc.
A legally valid labor contract is written clearly and concisely in Chinese. Even if the parties signed two contracts, in English and Chinese, the latter would be the binding one. In case of a labor dispute and in the absence of a contract written in Chinese, the courts may argue that a legal and valid employment contract does not exist at all, and the employer will be penalized.
Contract types
There are three types of employment contracts in China:
Fixed-term contract – after two consecutive fixed-term contracts, the employer is obliged to offer an open-ended contract if the company wants the keep the employee
Open-ended contract
Employment contract in China for the duration of a certain task/project
Labor contract localization
Matching the contract's content to the province and city's local regulations is critical. In China, there is no such thing as a "general national labor contract". Rather, different provinces define different local labor regulations. For instance, since minimum wage is influenced by a region's cost of living and by its economic development status, the minimum wage varies between different provinces. In other words, a labor contract from province A cannot be used or substitute a labor contract in province B. Using two similar employment contracts in Mainland China and Hong Kong or Macau (which are Special Administrative Regions) is even worse.
An effective labor contract is clearly formulated and written in Chinese, in accordance with national and provincial labor laws and regulations.
Notice: A contract that does not meet these requirements puts the employer at risk. Currently, the sanctions imposed on foreign employers who fail to consolidate a legal and valid labor contract are more serious than ever. Such an employer will be subject to legal prosecution by the employee, who may argue that the employer has violated the Labor laws.
The emergence of electronic contracts
Amid the growing need to sign remote labor contracts, in July 2021, the government officially affirmed the legitimacy of "lawfully concluded" electronic labor contracts in China. That is to say, in order for an electronic contract to be considered valid and enforceable, the contract must comply with all the regulations related to the Contract Labor Law in the country. One thing to keep in mind is that alongside the formal endorsement of electronic contracts, they pose some new challenges for employers in China. For instance, identity verification of the signing parties, choosing an appropriate contract management platform that offers electronic signatures and encryption features, private information safeguarding, backing up and storing the contract in a safe and reliable place, etc. In the face of these considerations, many international companies doing business in China get assistance from a professional third party who supports the process.
Types of employment in China
Full and part-time employment are the two main ways of hiring staff in China. These individuals, unlike freelancers, are hired by the company or an employer of record in China on behalf of the company.
Each type of employment in China has its pros and cons. Regulatory speaking, there are several differences between these two types of employment in China: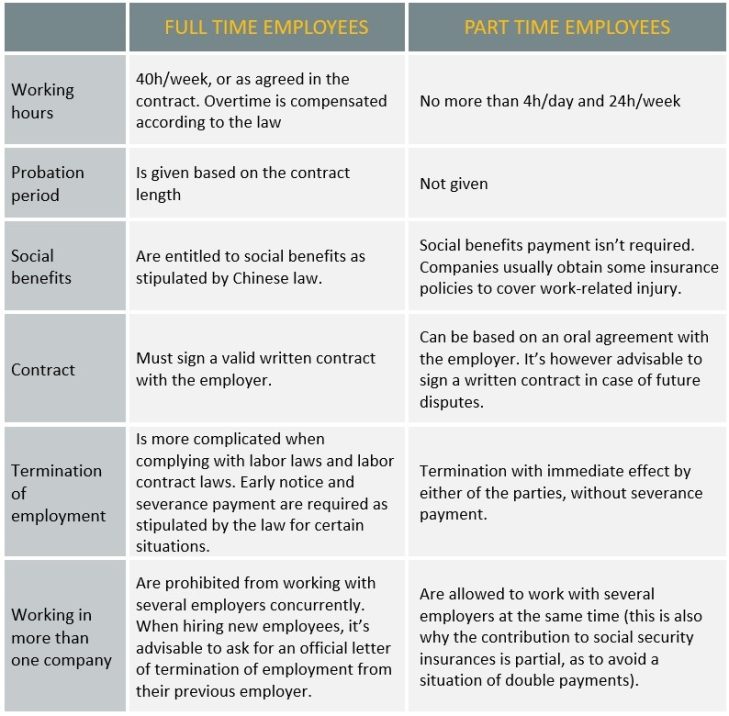 Note: Signing a valid labor contract with a full-time employee is more than just a legal requirement. In the event of hiring a full-time employee without signing a valid contract within a month, the employer will be required to pay the employee a double monthly wage. If this period extends to a year, the employer will be required to hire that employee until their mandatory retirement age (open-term employee).
Employment of Chinese workers as freelancers
Hiring freelancers, also known as contractors, private consultants or service providers, is another type of employment in China. In this type of employment there is no "formal" employment relations between the hiring company and the freelancer. Therefore, freelancers are allowed to work for several "employers" at the same time, and provide them with a tax invoice accordingly.
From the employer's perspective, control over freelancer employees is limited. This is especially true for companies that want their employees to sign an NDA (Non-Disclosure Agreement). So, we always recommend that international companies make sure they hire Chinese employees legally – within the realm of the China Labor Contract Law.
Last updated: August, 2023
At PTL Group, we specialize in HR services in China. Get in touch today and let us support your China operations.
Last updated: Aug 2023