All Posts

By Shelly Salomon, PTL Group
WeChat is a multi-functional platform that has taken China by storm. The platform is much more than just a messaging app, it's an ecosystem, that allows users to communicate, make payments, book appointments, share content and so much more, all within one app.
With over 1.2 billion active monthly users, 38 billion messages exchanged every day, and 68 million videos uploaded daily, WeChat has become a universal part of daily life in China and is rapidly expanding its reach beyond the country's borders. In light of this, a multitude of companies wishing to enter the Chinese market should understand the benefits of WeChat for business marketing.
Not having a WeChat account in China means you pretty much don't exist. Apart from the extensive popularity and the well-known features WeChat has to offer, this post will help you understand what your company should consider when opening a WeChat corporate account. But before that, let's talk strategy:
WeChat marketing strategy:
Cost-effective tool for gathering followers and exposure
An easy method to raise and maintain brand awareness
Handy, quick, and accessible to users
Customers can make purchases online and instantly
It enables interactions with customers and thus increases brand loyalty
In other words, it's the perfect match between buyers and sellers!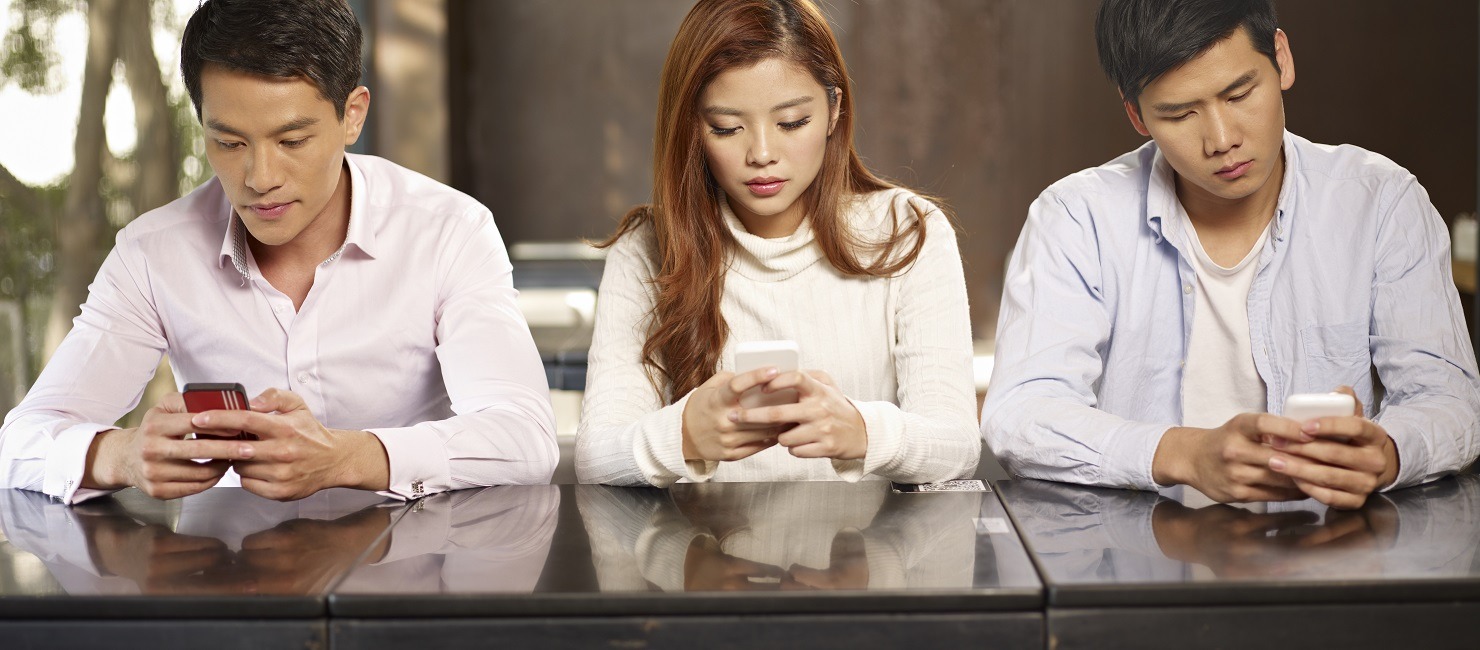 When done correctly, setting up a WeChat account helps to maximize your brand's marketing potential in China. In fact, there are over 20 million WeChat Official Accounts and more than 95% of brands in China have a WeChat Store. But don't rush into opening an account just yet. First let's see what kind of account your company needs:
Subscription Accounts
A Subscription account is for companies that are looking to reach a large number of followers through content, using articles, videos, and images. This is a good fit for content-oriented businesses and individuals. This account allows you to post 1 message per day and content can be re-shared by readers where they mention or tag the original source. However, high posting frequency is compromised by low visibility. Messages and articles don't push notifications, and they appear in a dedicated "subscription" folder.
Subscription accounts can also be opened by overseas companies.
Service Accounts
A service account is for companies and organizations that want to provide a more personalized experience for their clients. Service accounts allow companies to interact with users directly and provide customer service, as well as send push notifications and share promotions. This makes the service account a great fit for sales-oriented companies with a large customer base. For instance, the system features API and geo-location integrations, as well as the option to set up a WeChat Store linked to a WeChat Pay service. Service accounts also provide customer service capabilities and solutions with buyers able to send direct messages to the account owner. In fact, the account owner gains access to more data, such as who scanned the QR code and which content was re-shared that can be used for your advantage.
In terms of visibility, unlike the Subscription Account, messages, articles and push notifications appear in the user "chat" list. The only downside?  the posting frequency is much lower as you are only allowed to post 4 times per month.
Enterprise Accounts
An enterprise account is designed specifically for large enterprises, offering a range of enterprise-level tools and features. This type of account is ideal for companies looking to stay up to date with internal communication tools, new collaboration options, and making sure that workflow stays at a regular pace. Enterprise accounts differ from other official accounts in the respect that they are intended for internal use. Unlike the other accounts, enterprise accounts aren't open to the public and followers must be authorized as company workers.
Enterprise accounts are relevant for companies seeking to employ internal management functions such as chat rooms, videos, newsletters, and other resource-sharing mechanisms.
Marketing on WeChat – choosing the right route
Most companies in China tend to choose either Subscription Accounts or Service Accounts.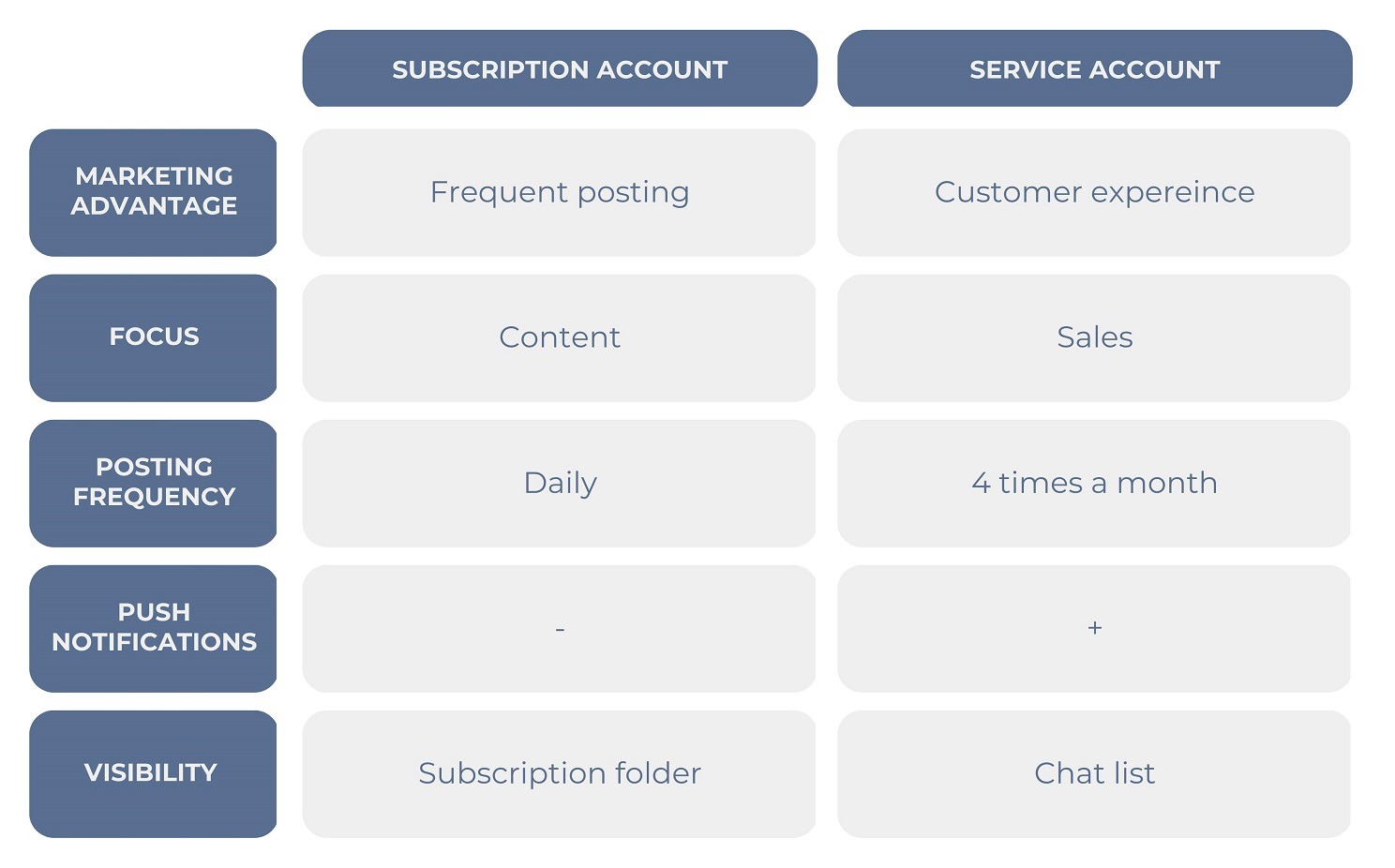 Official WeChat corporate accounts are a must-have marketing tool for any company or brand that wants to cultivate a following and consumer base in the Chinese market. WeChat serves as an immovable pillar around which so much of life and ultimately business in China revolves. Utilizing it requires careful consideration when choosing the account that fits your company's needs best.
If you have any further questions, PTL Group's experts would be glad to assist in marketing localization & social media in China.